Gardening Kits for Kids – 8 Great Choices!
If you are looking for great gardening kits for kids, you are in the right place. We gathered some of our favorites here. A kids' gardening kit is a great way to introduce your little one to the concept of gardening. Most are fairly easy to plant indoors and produce relatively quick results. No matter where you live, or what the season, you can nurture a love of gardening with these gardening kits for kids.
DIY Garden Kit for Kids
The DIY Garden Kit for Kids is one of the easiest ways to introduce your children to gardening. The kit includes a windowsill greenhouse. Your children simply soak a small peat pellet in water, place a few seeds in the pellet, and place the pellet into the greenhouse container. After all of the pellets are soaked, seeded, and placed into the container, just place the container in a sunny location and wait for sprouts! The seeds included are sunflower seeds, zucchini seeds, cucumber seeds, pie pumpkin seeds, snap pea seeds, red beet seeds, carrot seeds, and surprise flower seeds. When the seedlings outgrow their container, transplant to larger pots or an outdoor space. This gardening kit for kids receives great reviews!
The company that makes this kit, Grow and Make, also creates other do-it-yourself kits for kids such as kits to make lip balm and soap.
Activity Garden Set for Kids
The Activity Garden Set for Kids also uses peat pellets but does not provide a container. The seeds include sunflower seeds, wildflower seeds, pea seeds, and cress seeds. This gardening kit for kids additionally includes four activity sheets.
Label the Different Parts of a Plant
Plants and Flowers Hunt Sheet
The Life Cycle of a Pea
How to Make a Cress Head
The company that makes this kit, Healthy Family, makes eco-friendly products to reduce waste.
Children's Vegetable Garden Kit
The Children's Vegetable Garden Kit is a kids' gardening kit that includes four terracotta pots with biodegradable liners. Eight peat pellets are included for planting the carrot, cucumber, basil, or tomato seeds in the kit. There is also an instruction card on each vegetable. Best of all, paint and a small paintbrush allow children to personalize their pots.
The company, Kids Coloring Company, also offers gardening kits for kids for planting sunflowers, herbs, and daisies.
Dan & Darci Paint and Plant Pizza Herb Growing Kit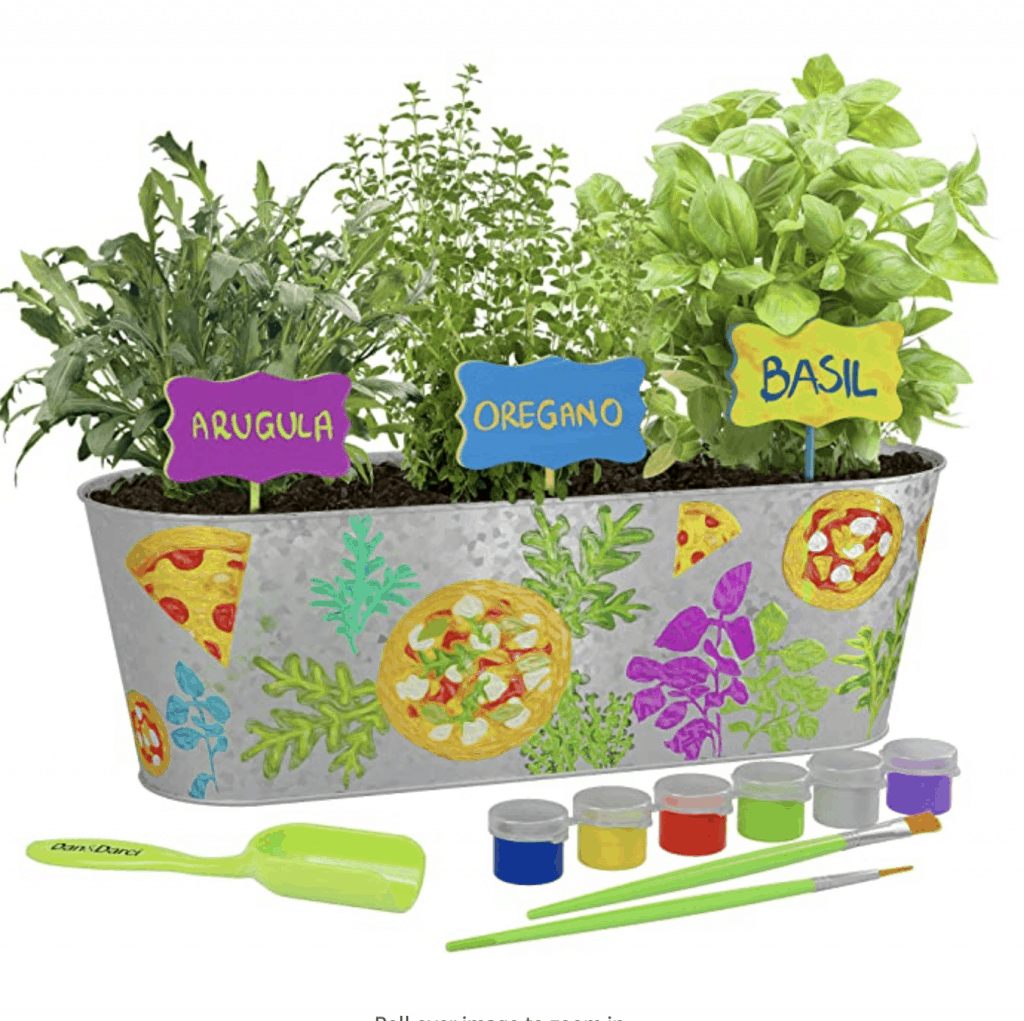 This Pizza Herb Growing Kit includes a 12-inch tin planter, plant markers, paint and paintbrushes, and seeds for planting arugula, oregano, and basil. There is also an informational booklet with instructions and suggestions for painting. In addition, the sellers claim this gardening kit for kids is a STEM authenticated product (learning tools that focus on science, technology, engineering, and math).
Dan & Darci also offer a flower growing kit and a fairy kit that includes flower seeds. All three kits include one tin planter for growing and painting.
Root Vue Farm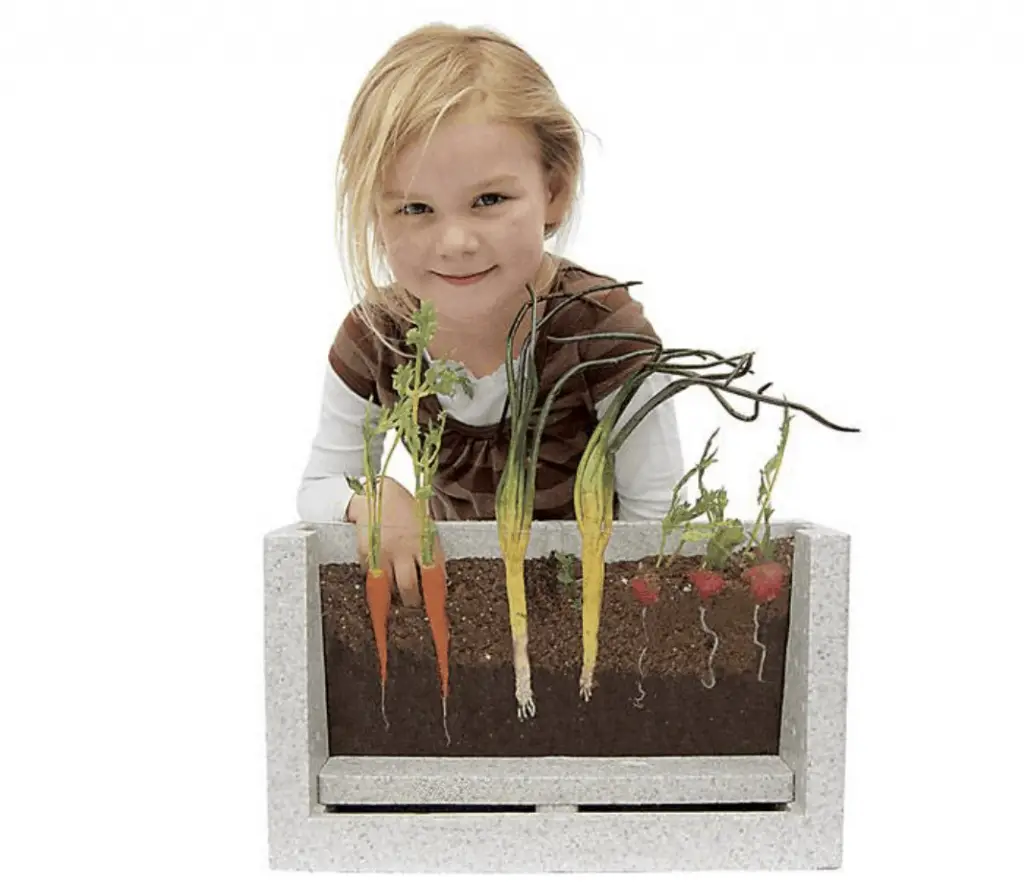 The Root Vue Farm includes a durable growing container with a viewing window so children can watch the roots of the plant as they grow and spread. It also includes seeds, soil mix, labels, and an instruction booklet. This gardening kit for kids is a winner of many awards and is also a STEM product. At the time of this writing, details on the type of seeds included in the kit are not provided. The ability to see the root as they grow is a nice touch and one sure to intrigue the young gardener.
Plant a Pizza Garden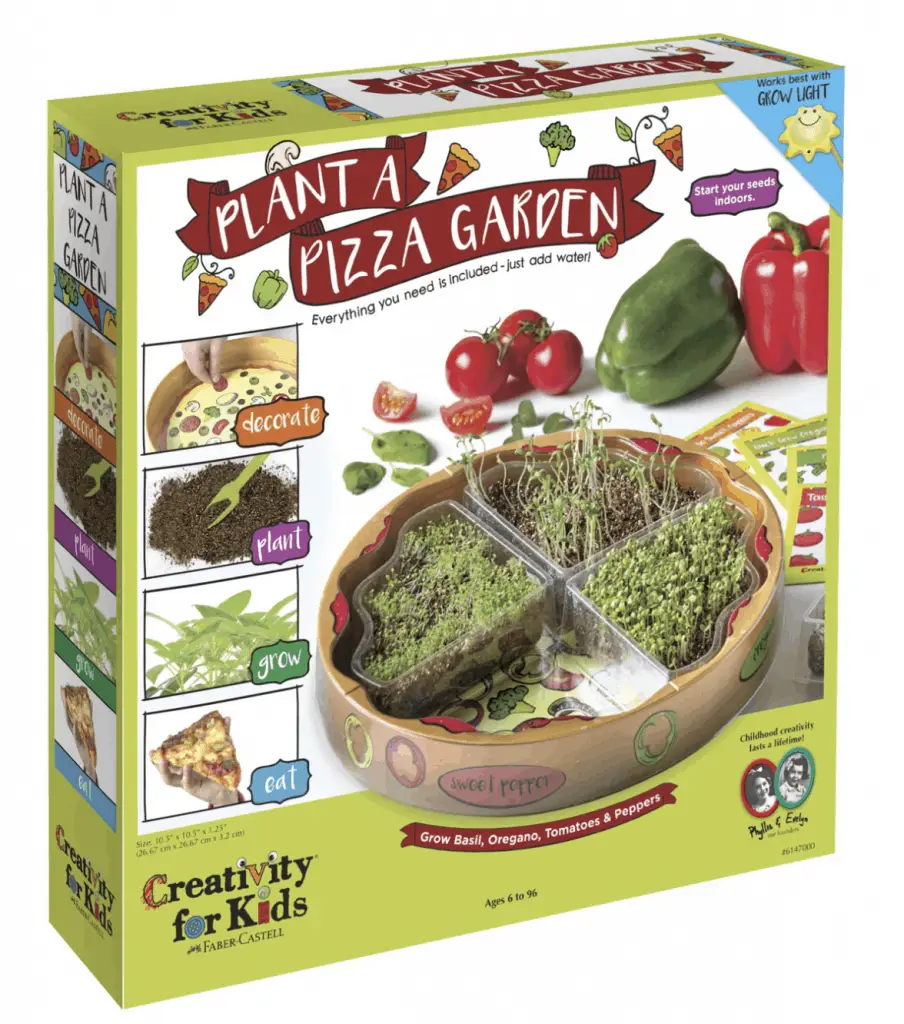 The Plant a Pizza Garden gardening kit for kids includes a round tray with four triangular plastic containers that fit into the tray. It also contains stickers for decorating the tray. The non-GMO seeds include basil, pepper, oregano, and tomato. The tray is a neat and tidy way to contain all of the seedlings. Like all of these gardening kits for kids, the seedlings are meant to be transplanted into a bigger pot or planted outside once they outgrow the containers.
The kit is from Faber-Castell, long-time creators of pencils, coloring pencils, artist pens, and creativity kits for kids.
Williams Sonoma Kids' Garden Kit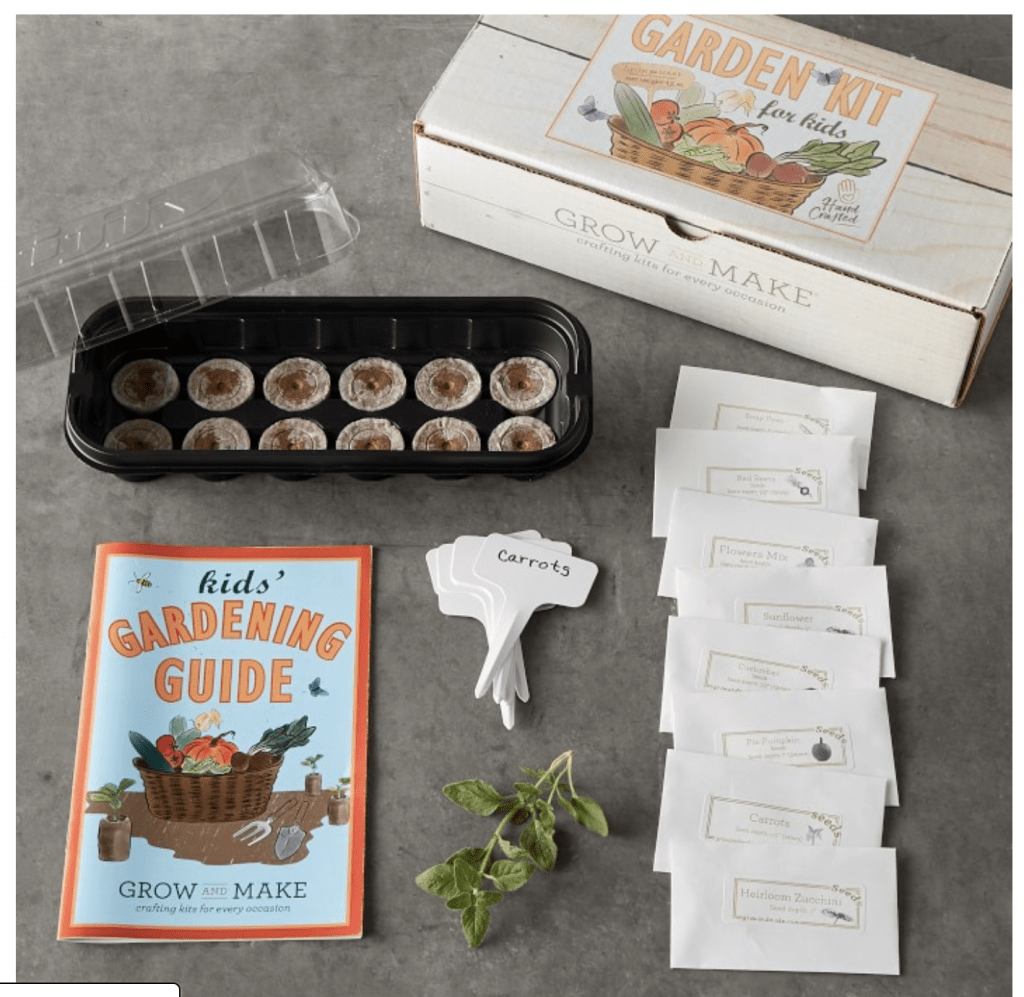 The Williams Sonoma Gardening Kit for Kids is similar in size and design to an egg carton. It contains the container, 12 peat pellets, plant labels, a gardening guide, a clear see-through plastic lid for the container (to increase humidity), and seeds for sunflowers, zucchini, cucumbers, pumpkins, snap peas, red beets, carrots, and a surprise flower mix. Like most of the other kits, the planting begins by soaking the peat pellet and then inserting the seed into it. Also like the other kits, the planted seeds require a sunny location to grow.
Williams Sonoma also includes thorough instructions on their website for growing and, eventually, transplanting your plants. Their popular website also sells kitchen products and home furnishings.
Mini Dinosaur Garden
The Mini Dinosaur Garden kit for kids is a cute gardening kit that includes a plastic egg-shaped terrarium, potting mix, water dropper, sticker sheet, colored sand in three colors, white gravel, two dinosaurs, and puffy stickers for decorating the egg terrarium. Basically, the dinosaurs are positioned in the egg terrarium on top of colored sand. Chia seeds are then planted behind the dinosaurs, creating a small and wild habitat. The effect is cute and will probably delight the young dinosaur lovers in your family.
This is also a Faber-Castell product. The company offers similar mini gardens with unicorns and fairies.